Kōichi Yamadera
山寺宏一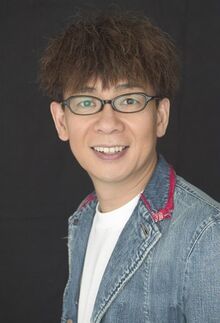 Kōichi Yamadera (山寺宏一, Yamadera Kōichi?) is a Japanese seiyū, actor, tarento, narrator, master of ceremonies and impressionist from Shiogama, Miyagi Prefecture. He graduated from Tohoku Gakuin University's economics school, and is currently affiliated with Across Entertainment. Before that, he was affiliated with the Tokyo Actor's Consumer's Cooperative Society. His voice-acting debut was the OVA Megazone 23 as the motorcycle-riding Shinji Nakagawa. Yamadera's break-out role as a seiyū was the anime Ranma ½, in which he played the role of Hibiki Ryōga. On the October of 1997, Yamadera became a host on the TV Tokyo children's variety show Oha Suta.
External links
Edit
Community content is available under
CC-BY-SA
unless otherwise noted.